In the Consulting of Psychology and Health Montse Valls Giner, we also offer dog training.

Understanding the behavior of a dog is an inexhaustible source of resources to fully enjoy the company of your pet and also to ensure that it gets proper treatment in every situation, thereby improving their quality of life.

Furthermore, in the same way that no one can take your driving license for you, it is imperative that you be who learn to "carry" your dog and correct its flaws.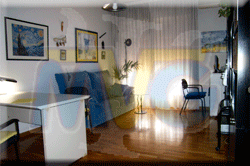 Thus, your best friend, whatever its race, and whatever its age, learn to obey no longer behave problematically in places where negative behaviors occur (escapes, aggression, fear, destruction and presented a long and so on).

Dog training services are performed by Ken Sewell. In 1974, he created the original formula of "teach the owner to learn his dog", founded in the same year the at home training team that would revolutionize the field of canine learning across the country.

Remember canine behavior has much to do with the way that it educates its owner. Ken Sewell services, will help you find solutions.

See our dog training services